Butter beats lotion every single time.
There's nothing wrong with lotion, but meant for quick, sheer coverage, its water-based formulas tend to fall short of the proper skin penetration our body has been craving. You will notice an actual difference in your skin over time and the best part, you only need to apply it once a day!
All-year round, no matter the season.
Due to it's butter and oil combo, BODY LOVE CREAMBody LC is light enough for the summer but heavy enough for the dead of winter.
A little goes a long way.
Creamy, smooth and whipped to perfection, BODY LOVE CREAM's buttery texture melts in your hands to spread onto your skin with ease.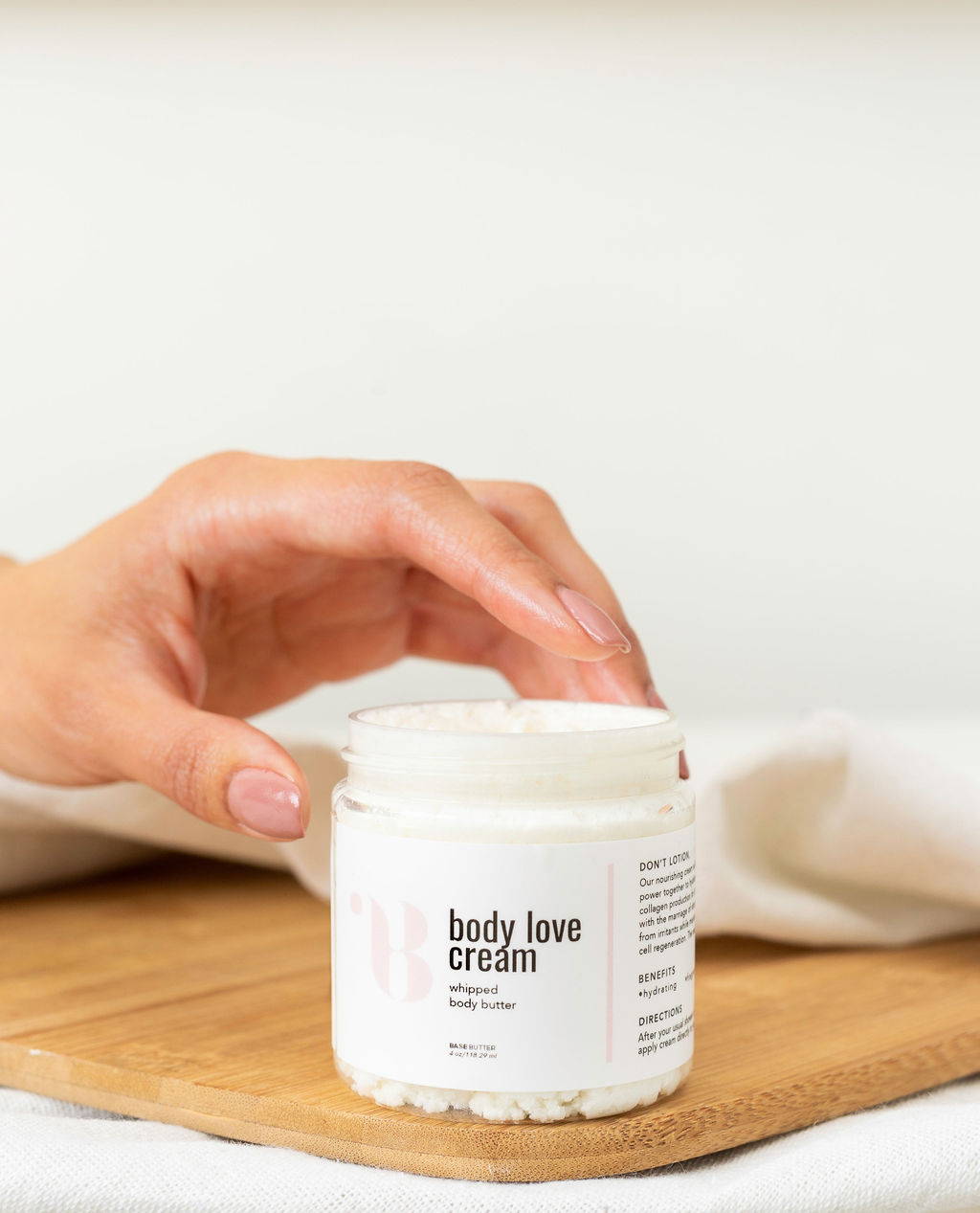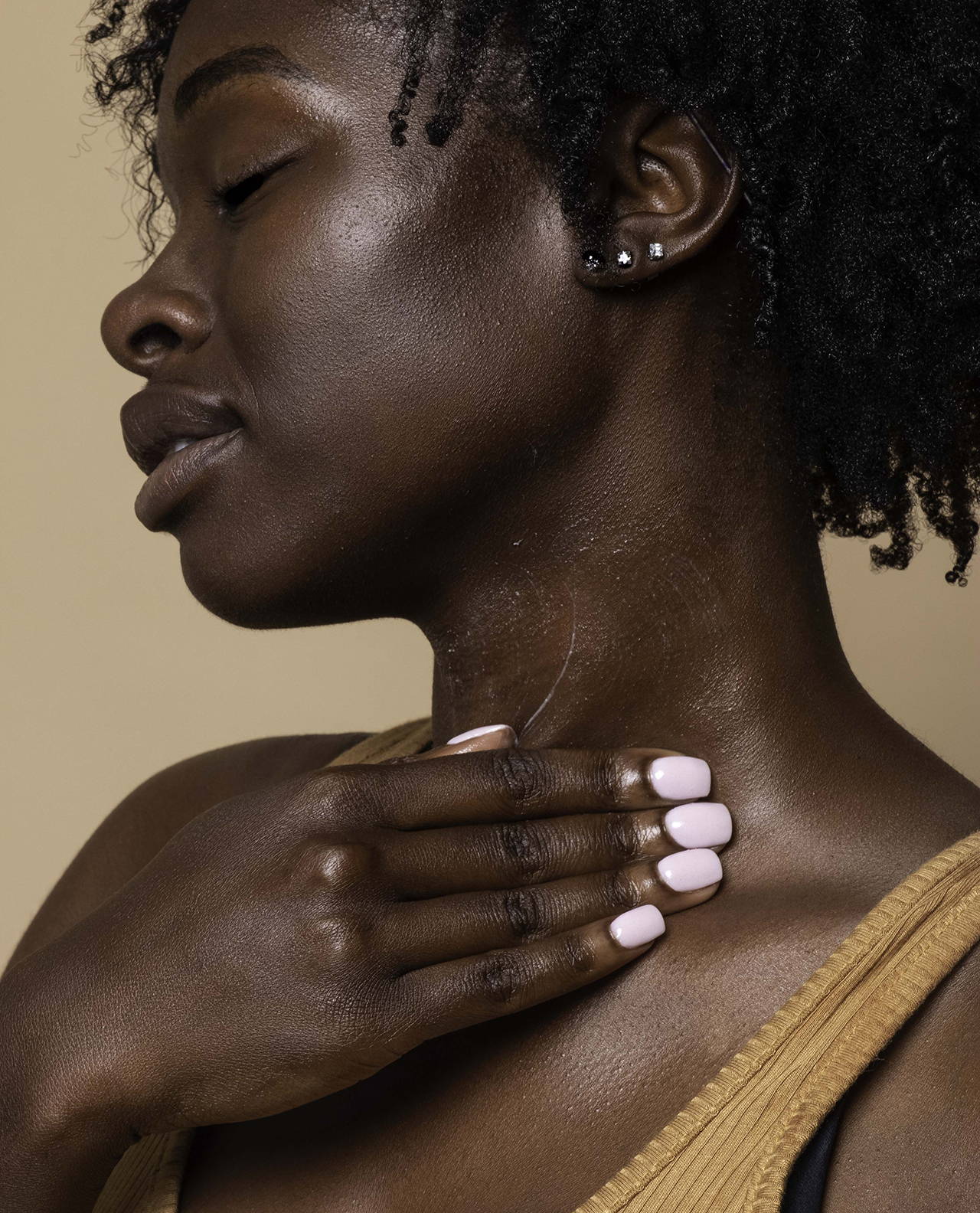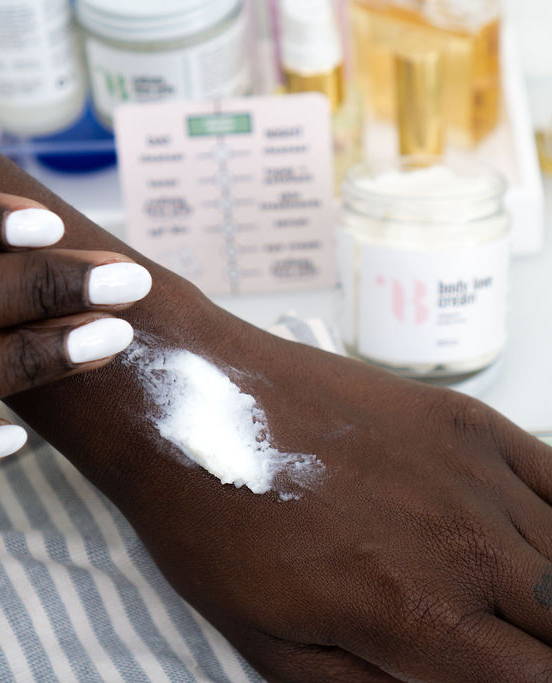 WHAT'S IN

BODY LOVE CREAM
Vitamin rich emollients with significant levels of vitamins A and E, that promotes strong antioxidant activity.
Cult favorite humectant that hydrates the outer layer of the skin, improve skin barrier function and provides protection against skin irritants.
Another cult favorite humectant that bind moisture into the skin with mucopolysaccharides resulting in softer skin and improved skin integrity.
Due to its emollient properties sweet almond oil improves both complexion and skin tone.
Ease irritation, injury, and inflammation of the skin.
WHAT BEAUTIES SAYS ABOUT BODY LOVE CREAM
see why this is one of the best full body moisturizers out there
Originally got this as a gift. It's the perfect creamy consistency without losing the most important feature: moisture! It also smells so good! Used it every single day and had to go back and order more for myself. Def my go to moisturizer from now on!
I tend to use this all over my body and I adore it. I just wish it came in a larger jar. Otherwise, perfect! It applies the right amount of moisture without being too oily
"Definitely locks the moisture!"
So, I am finishing up my first batch and am more than pleased with the results. The product last my skin moist for most of the day which is more than I can say for most shea butter based products. I can no longer use natural Shea because it ruins my clothes with the residue. I have had no issues this far with this product. My skin feels soft and sRead more about So, I am finishing up my first batchupple already. I looking forward to this trend continuing. I will check back after my first 90 days of use to confirm whether I feel the same!!!
This whipped butter is made well! It's not overly thick, where it would take a prolonged amount of time to warm up and spread - its consistency allows it to become spreadable rather quickly, and a little bit goes a long way! There seems to be the right balance of butters and oils! It keeps my skin moisturized throughout the day and it smells naturRead more about This whipped butter is made well! It'sally nice :). Great product!
It took me so long to try this because I didn't want to spend so much on a body cream but after trying it, and feeling the love, I have bought 3 more jars because it is THAT GOOD and I don't want to use anything else. The smell and texture are perfect. I'm just waiting on the larger packaging and would also love glass instead of plastic :)
Only A FEW HOURS left until PRE-ORDERS CLOSE
Want to bring Body Love Cream back for good? Shop now to show our suppliers just how much you can't live without Body Love Cream. If we sell out of our limited inventory, then Body Love Cream will find a permanent space back on BASE BUTTER's shelves.